Taiwan said on Sunday that China's recent launch of a meteorological satellite has resulted in rocket wreckage crashing into its northern waters, where Beijing had previously imposed a three-day entry restriction on flights in the area.
Beijing launched its long March-4B rocket carrying the Fengyun-3G weather satellite on Sunday. The rocket blasted off at 9.36 a.m. local time from the Jiuquan Satellite Launch Center in China's Gansu province.
Taiwan's Defense Ministry said the Chinese rocket was spotted flying over the island's northern airspace after it launched.
Taiwanese armed forces monitored the rocket launch through joint intelligence and surveillance and found that it did not pose a threat to Taiwan's security, according to the ministry's press release.
"[Taiwan's] armed forces monitored the whole process and detected some debris falling into the northern waters of Taiwan," it said on Twitter.
China Aerospace Science and Technology Corporation said the rocket had "successfully" sent the Fengyun-3G weather satellite into its preset orbit, which is a low-earth satellite designed to track heavy rainfall.
While it did not specify the flight path of the Long March-4B rocket carrying the satellite, the time of its launch appears to coincide with China's previous announcement of the no-fly zone near Taiwan.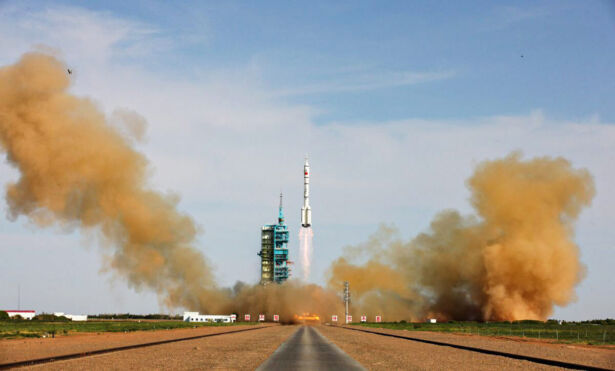 Taiwan's Ministry of Transportation said last week that Beijing had notified that it would impose a no-fly zone in northern Taiwan from April 16 to 18, which will restrict flights from entering the designated airspace.
Beijing subsequently reduced the flight ban duration from three days to 27 minutes on Sunday and denied that it had imposed a no-fly zone over northern Taiwan, claiming instead that it was only taking measures to "ensure flight safety."
Some 480 Flights Potentially Affected
The decision was made after Taiwan protested the flight ban, given the impact it would have had on the economy and airline traffic of other countries, particularly Japan, whose islands are located close to the zone.
Taiwanese media claims the zone is adjacent to Japan's Ishigaki Island and Senkaku Islands in the East China Sea, which China also claims and refers to as Diaoyu Islands.
Japan had requested that Beijing provide an explanation for its decision to impose a flight ban over northern Taiwan.
"The government is continuing to collect and analyze detailed information, including the communication with the Chinese side, and will take appropriate measures based on the results," chief cabinet secretary Hirokazu Matsuno told reporters.
Taiwanese transport minister Wang Kwo-tsai said the flight ban could have impacted about 480 international flights if Beijing had maintained the three-day duration, citing the increase in the number of flights using that route after the pandemic.
Wang said about 33 flights will still be affected despite the reduction in the flight ban time to 27 minutes as they would need to deviate south from their original routes, resulting in longer travel time.
The Chinese maritime safety agency also warned about possible falling debris in waters north of Taiwan and prohibited vessels from entering on Sunday. But Taiwan said the warning only applied to ships, not aircraft.
Flight Bans Part Of CCP's Strategy
The rocket launch came just a week after Beijing staged a three-day military drill around Taiwan on April 8 in response to Taiwanese President Tsai Ing-wen's meeting with U.S. House Speaker Kevin McCarthy (R-Calif.) in California.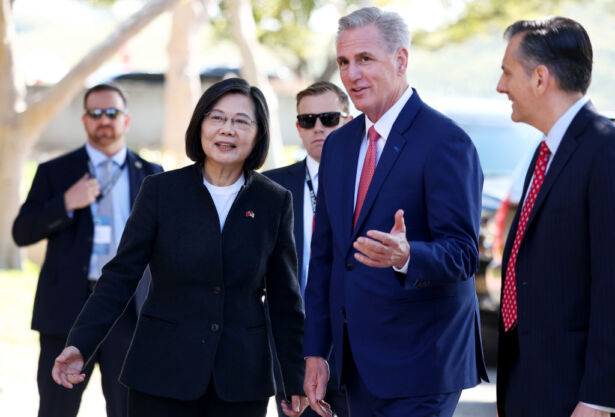 Taiwanese security analyst William Chung warned in June 2020 that flight bans could be part of the Chinese Communist Party's (CCP) "gray zone" strategy against the self-ruled island, Taipei Times reported.
In August 2022, Beijing responded to then-House Speaker Nancy Pelosi's visit to Taiwan by staging war games around the self-ruled island and warning Asian airlines to avoid flying in areas designated as "danger zones." This resulted in hundreds of Asian airlines having to cancel or reroute their flights to avoid Taiwan's airspace.
The CCP regards Taiwan as a renegade province that must be united with the mainland by all means necessary despite the fact that Taiwan has never been ruled by the CCP and has its own democratic government and currency.
The Taiwanese Defense Ministry has vowed to maintain its defense and continue to "keep a close watch" on the CCP military even as Beijing announced the end of its military exercise on April 10.
"Although China's military exercises have come to an end, the national army and national security teams will continue to stick to their posts and defend the country," Tsai said in a video address last week.
Taiwan's military said it detected 18 Chinese aircraft and four naval vessels near the island on Sunday, with four aircraft spotted entering southwest and southeast of Taiwan's air defense identification zone (ADIZ).
Taiwan scrambled aircraft to monitor the Chinese aircraft, mobilized naval vessels, and deployed land-based missile systems in response.
Reuters contributed to this report.
From The Epoch Times
Sign up for NTD Daily
What you need to know, summarized in one email.
Stay informed with accurate news you can trust.
Success! You are now subscribed.
NTD